Republican presidential candidate Donald Trump addresses the Faith and Freedom Coalition's Road to Majority Conference in Washington, D.C. — By … Katherine Gypson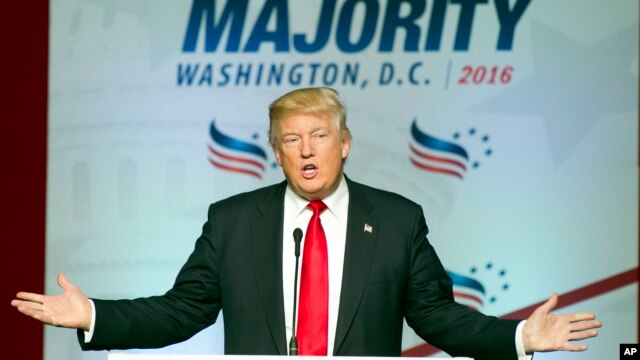 This story profiles Republican presidential candidate Donald Trump and examines what his presidency might look like if he wins the election. It is a companion piece to a similar story on Democratic presidential candidate Hillary Clinton.
.
Tragedies have a way of testing presidents. They also can reveal a great deal about presidential candidates.
In the hours after the worst mass shooting in U.S. history, Donald Trump's public response revealed how his administration might deal with the threat of terrorism and work with Congress, as well as the tone he would strike to bring the American people together in a crisis.
Trump took to Twitter in the initial hours after the attack; labeling the incident terrorism and criticizing his opponent, Hillary Clinton, on an unrelated matter, even as reports were still coming in. Eventually, he tweeted about the many people congratulating him for labeling the incident terrorism, drawing attention away from the shooting and to himself.
"That's not the response of a statesman or a leader, that's the response — frankly — of an egomaniac," said Norm Ornstein, a fellow at the American Enterprise Institute.
In a speech focusing on terror and national security a day after the shooting, Trump spent a significant portion of time on political attacks against Clinton, and he called for an even more wide-ranging ban on Muslim immigration that would be difficult to implement.
Republican presidential candidate Donald Trump raises his arm as he leaves after a rally in The Woodlands, Texas
Ornstein said Trump's "self-congratulatory, hostile diatribe" should concern people, including Republicans in policy and party positions who believe his unpredictability and lack of policy knowledge will allow them to control his agenda.
"This particular speech — after he's won the nomination, after a devastating tragedy for the country — has to give them substantial pause," he said.
Ultimately, a clear picture of a Trump administration policy agenda is difficult to build, a group of journalists and policy analysts said at a New America Foundation event and underscored to VOA afterwards last week. Trump's response to the Orlando shooting played out along some of the same lines they were able to predict.
"How much are we talking about Trump?" Matthew Continetti, editor in chief at the online newspaper The Washington Free Beacon told VOA. "It doesn't really matter what aspect of Trump we're talking about or discussing as long as what we're discussing refers back to him. So that's going to lead to a dysfunctional government even more than we have now."
Going with his gut
Trump leads with his gut. It's part of what has made him a popular candidate with many voters, who are tired of focus group tested candidates who immediately apologize if they get into trouble for saying something politically incorrect. But a candidate's successes don't always translate well in the Oval Office.
FILE – Republican presidential candidate Donald Trump is joined by his wife Melania, right, daughter Ivanka, left, and son Eric, background left, as he speaks during a primary night news conference, May 3, 2016, in New York.
.
"Trump [is] just flying by the seat of his pants, going by his gut, so he sort of throws out contradictory ideas as they occur to him that feel right," said Indira Lakshmanan, a contributor to Politico, who has reported in more than 80 countries. She says trusting gut feelings could be particularly problematic for a president managing relations worldwide.
"There's a lot involved in foreign policy; there are a lot more briefing books you have to read, crises that you have to manage," Lakshmanan said. "There's a lot more complexity than just saying 'we're going to do this better than anyone before.'"
On the campaign trail, Trump has provided conflicting evidence of his domestic policy ideas. When asked what he believes the Federal government should do other than to direct security policy, Trump answered health care and education.
That's a strange answer for a candidate running as a Republican, a party that traditionally believes the government should not interfere in those areas, noted Lara Brown, program director at George Washington University's Graduate School of Political Management's Political Management.
Even if he does settle on an idea, Trump could go into meetings with White House advisers who would have to tell him he doesn't have the presidential power to implement those ideas, Brown said.
"He's going to want to fire people and that doesn't work very well in our system," said Brown. "I cannot see who would serve in an administration where essentially every minute of the day you would basically be overruled, because I don't envision him taking advice from anyone on anything."
The work-around
That may be just what the Republican leadership in Congress, however, is hoping would happen in a Trump administration.
FILE – Republican U.S. presidential candidate Donald Trump speaks at a rally in Pittsburgh, June 11, 2016.
"They believe that Trump is so without essence and so inverted himself that they're going to be able to run a lot of conservative policy by him and no one will notice," said Continetti.
House Speaker Paul Ryan may be betting that he can get his ambitious policy agenda past a distracted Trump in the White House.
"He'll be so busy picking fights with Rosie O'Donnell and Barbara Walters, he'll say, 'yeah sure, I'll sign this, whatever' — and do the thumbs-up," said Continetti.
Ornstein agreed, saying Republicans could view a Trump administration as a last in a generation opportunity to push through their wish list — including ending the filibuster in Congress, the "biggest tax cut that you could ever possibly imagine," along with voter-suppression laws, and packing Federal courts with judges who will influence the law for decades.
There may be an even grimmer prospect, though, for a Trump presidency. Already an enemy of the Democrats, Trump may make a new set of enemies among Republicans, and inspire so much fear that a new bipartisan spirit emerges in American #politics.
Said Lara Brown, "I wouldn't be surprised at all if both parties conspire to make him the least effective president in his first 100 days."
.
.